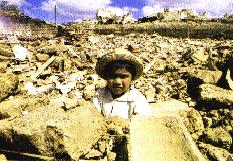 Facing natural disasters (hurricans, earthquakes, etc.) mankind has always had two alternatives: try in same way to control the phenomenon or to recognize that nature is more powerfull and only to predice (it implies a passive resignation attitude when allowing the phenomenon occurs)
HOW EARTHQUAKES HAPPEN?
The cortex is formed by tectonic plates that float in the "magma" (hot and semiliquid rocks). The contact zone between two plates is called "fault". If the plates slip slightly one over the other (or in other words, if the friction were light) we would have an amount of shakes... slight and harmless. Unluckily in the faults there is a great friction that keeps them in its place, while the vortices of magma ("convection currents") produce a continual pushig which is shown as increasing pressure.
So, when the accumulated forces exceed the friction, there is a violent shake because of a strong movement of the plates. That is what can be called an earthquake.
On other side, to settle a city is preferable that the climate and the natural means of transport be favorurable. This leads us to coasts, valleys and riversides, it means... on the faults. Effect? A 40% of the cities in the world are in seismic zones. Just one quake can cause thousands of deaths:
* 1976, Tangshan, China: 250 000 deaths
* 1978, Iran: 15 000 deaths
* 1985, Mexico City: 30 000 deaths
* 1988, Armenia: 25 000 deaths, etc.